Vilano Beach/St. Augustine Inlet/Tolomato River - St. Johns County, Florida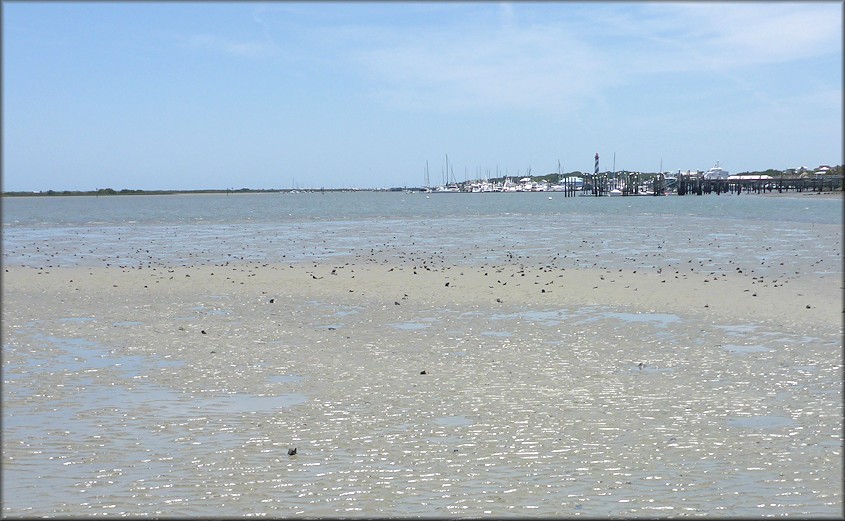 Sand bar inside St. Augustine Inlet showing plethora of Strombus alatus (Florida Fighting Conch) - 5/25/2021

Vilano Beach on the northern shore of St. Augustine Inlet in St. Johns County is about 35 miles south of Jacksonville and two miles north of St. Augustine. It can be reached from both St. Augustine and the Jacksonville area via scenic State Road A1A. Formerly a quiet backwater, Vilano Beach is experiencing rapid development and being gradually transformed into an upscale urban environment (March, 2010).
Discussion: The Vilano Beach/St. Augustine Inlet/Tolomato River area contains a variety of habitats which can be shelled including oyster bars, rip-rap, bridge/dock pilings, muddy sand flats and just plain mud. If you are worried about getting wet and muddy, this is not the place for you.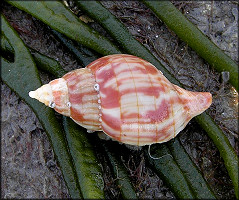 Shelling: While this area has not yielded any earth shattering finds, it has been a consistent producer of such species as Triplofusus giganteus (Kiener, 1840) (Forida Horse Conch), unusual colored variants of Cinctura hunteria (G. Perry, 1811) (Eastern Banded Tulip) [image left], Busycon perversum (Linnaeus, 1758) (Lightning Whelk),

Fasciolaria tulipa (Linnaeus, 1758)

(True Tulip), Hexaplex fulvescens (G. B.

Sowerby

II, 1834) (Giant Eastern Murex), some very large Fulguropsis spirata (Lamarck, 1816) (Pear Whelk) as well as a variety of other small species. Aditionally, it is currently the area in northeast Florida where Strombus alatus Gmelin, 1791 (Florida Fighting Conch) can be collected intertidally. One noteworthy aspect of shelling this area is the ability to park literally within feet of the prime shelling locations. However, it should be noted that during summer months on the weekends, this may not be possible. The optimal time to visit is during a minus tide when more habitat is exposed.