Black Rock Mountain State Park, Rabun County, Georgia, August, 1990. Maximum diameter is 14.81 mm., and maximum height is 11.86 mm. Note the narrow, slightly irregular commarginal fissure about 1/4 the way into the body whorl of this dead-collected specimen. It is preceded by a darker than normal color band and followed by a nearly white one. Both bands are of approximately equal width and parallel to the fissure. The shell, particularly its basal (adapical) aspect, thereafter becomes thinner and smoother with a distinctly malleate texture. The typical blade-like basal tooth is not apparent although the lip is thickened, notably in its lateral base. Vanatta (1912) described a single specimen from here as "similar to typical clarkii, but lacks the basal tooth. It has the base malleate but without the strong radial sculpture. Alt. 10.5, diam. 14 mm. Locality: Black Rock Mt., Rabun Co., Georgia. Type in the collection of the Academy of Natural Sciences [ANSP ed.], no. 104800. Named in honor of the collector, Dr. J. Chester Bradley." It appears that the shell above has transformed from a typical P. clarkii to the "variety" bradleyi consequent to trauma, not unlikely imposed by an unsuccessful predator. A similar transition in sculpture and its impact on taxonomy is demonstrated in Lee (2011; html version at < http://www.jaxshells.org/022311.htm>). Typical P. clarkii is known to occur here as well (John A. Cramer, personal communication). Why the two known specimens are from the same locality is a puzzlement, but it is likely others meeting Vanatta's description will turn up here and elsewhere from time to time. The holotype is figured below (from the ANSP malacology collection website; collage produced by jaxshells staff).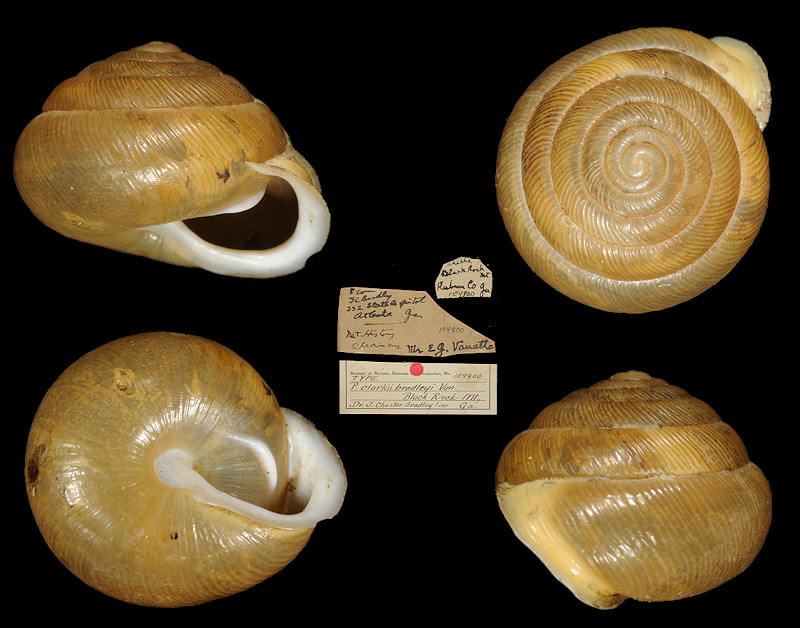 Lee, H.G., 2011. Is Semicassis cicatricosa (Gmelin, 1791) [Tonnoidea: Tonnidae: Cassinae] a valid biotaxon? Shell-O-Gram 52(2): 1, 3-7. March. < http://www.jaxshells.org/pdfs/marapr11.pdf>
Vanatta, E.G., 1912. Notes. Polygyra clarkii bradleyi n. var. The Nautilus 25: 120 <https://biodiversitylibrary.org/page/26379952>; pl. 8, fig's 1,2 < https://biodiversitylibrary.org/page/26379986>.