Mercenaria sp. Juveniles
Juvenile Mercenaria frequently differ significantly in appearance from adult specimens. Thus in areas where both Mercenaria mercenaria (Linnaeus, 1758) and Mercenaria campechiensis (Gmelin, 1791) are present, it's difficult to make a positive identification. In some cases the juveniles are erroneously identified as other species.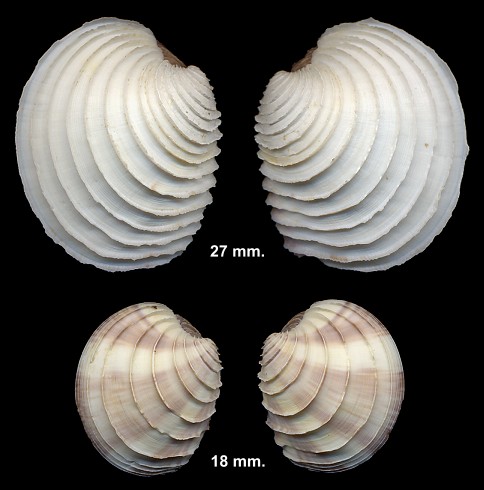 Matanzas Inlet, St. Johns County, Florida 6/6/2004
Many bivalves, such as the 30 mm. Mercenaria species show below, spend their entire lives totally buried in the substrate presenting little in the way of visual clues as to their presence. However, at low tide a observant collector can locate the specimens by carefully searching for a "spray pattern" emanating from the species buried siphons. Locally, this collecting strategy has proven useful in locating species such as Dosinia discus (Reeve, 1850), Eurytellina alternata (Say, 1822), and Macrocallista nimbosa (Lightfoot, 1786); among others.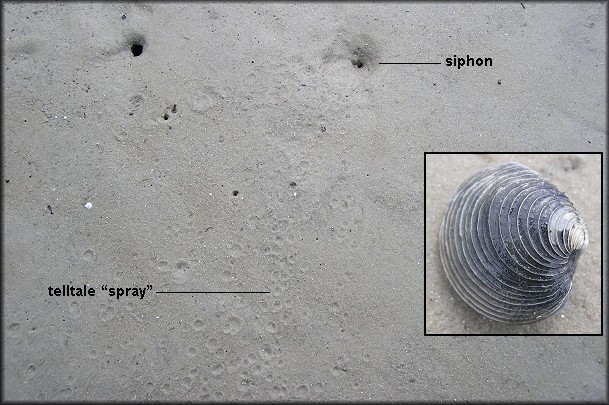 Matanzas Inlet, St. Johns, Co., Florida 8/1/2004