Sawmill Slough, University Of North Florida, Southeastern Duval County, Florida
Since the discovery of a thriving population of Pomacea paludosa (Say, 1829) [Florida Applesnail] in Lake Oneida on the campus of the University of North Florida (UNF) in the spring of 2005, it has always been a mystery to this investigator as to how the species came to be in this man-made borrow pit - a water body with no connection to any other. The only other nearby source of water is a shallow, inhospitable, swampy area known as "Sawmill Slough." This area too was investigated on several occasions and no sign of Pomacea, or any other aquatic species, was seen.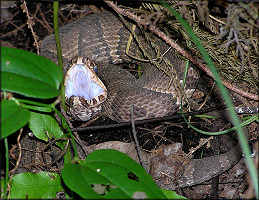 On August 12, 2006, with water levels in all Duval County watersheds extremely low due to lack of precipitation, a return visit was made to Sawmill Slough and it too was found to have been reduced to nothing but wet mud. Walking into the slough, dead Pomacea shells were readily apparent along with those of at least two species of aquatic bivalves. A more thorough search revealed a modest number of living Pomacea were in fact present but had buried themselves in the mud to avoid desiccation. One of the local residents of the slough (see image on the right) was not happy with my presence so further investigation was suspended to be resumed another day when some protective attire was available. The presence of the Apple Snails in the slough indicates that they are well-adapted to the stressed habitat, native to the area, and likely entered the lake during its construction.
Several follow-up visits were made to Sawmill Slough during August and September and it was confirmed that Pomacea were in fact present throughout the entire length of the slough within the UNF Campus - both north and south of the area explored on August 12th. Pomacea egg clutches were seen in the slough adjacent to University of North Florida Drive (near State Road 9A) and a live specimen and dead shells were found at two different locations south of the are explored during the August 12 visit - including where the slough ultimately crosses under J. Turner Butler Boulevard. Interestingly, during a September 17th visit to the same location where the close encounter venomous Florida Cottonmouth (see above right) occurred on August 12th, a Dusky Pygmy Rattlesnake [Sistrurus miliarius barbouri] was instead now found to be in residence.
Slough Reduced To Wet Mud (8/12/2006)
Slough Normal Appearance (2/22/2005)