Daedalochila auriculata On State Road 207 At Moultrie Creek, St. Johns County, Florida
During a molluscan survey in St. Johns County on August 4, 2010 a population of Daedalochila auriculata was discovered in vegetation on the southeastern bridge approach to Moultrie Creek on State Road 207 just east of Wildwood Drive. A total of three small juveniles were found to include two living specimens and one empty shell. No adult specimens could be located despite an intensive search. Since a positive species identification could not be made from the three juvenile shells, a follow-up visit to the site was made the next day and empty D. auriculata shells were found on the southwestern and northeastern bridge approaches. A pair of empty Daedalochila avara (Say, 1818) [Florida Liptooth] were also discovered on the southeastern bridge approach but no additional D. auriculata were found. Daedalochila auriculata may also be present on the northwestern bridge approach but heavy vegetation prevented a thorough search.
Northeastern Approach To Moultrie Creek On State Road 207 Looking West. Three empty adult Daedalochila auriculata shells were found in this area.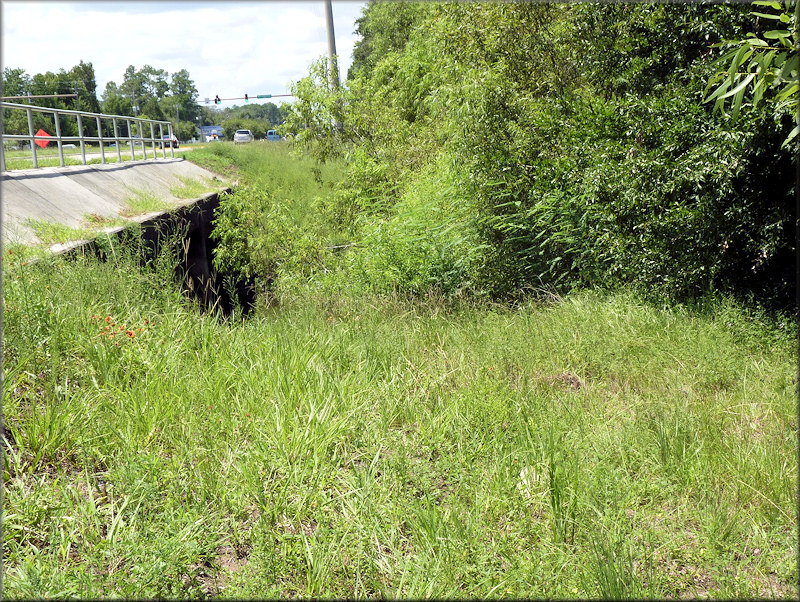 Empty Daedalochila auriculata Shells Found On Northeastern Bridge Approach