Tonna pennata
(Mørch, 1852)
Atlantic Partridge Tun
Feeding on Isostichopus badionotus (Selenka, 1867) Chocolata Chip Cucumber (Also see: Isostichopus badionotus (Selenka, 1867)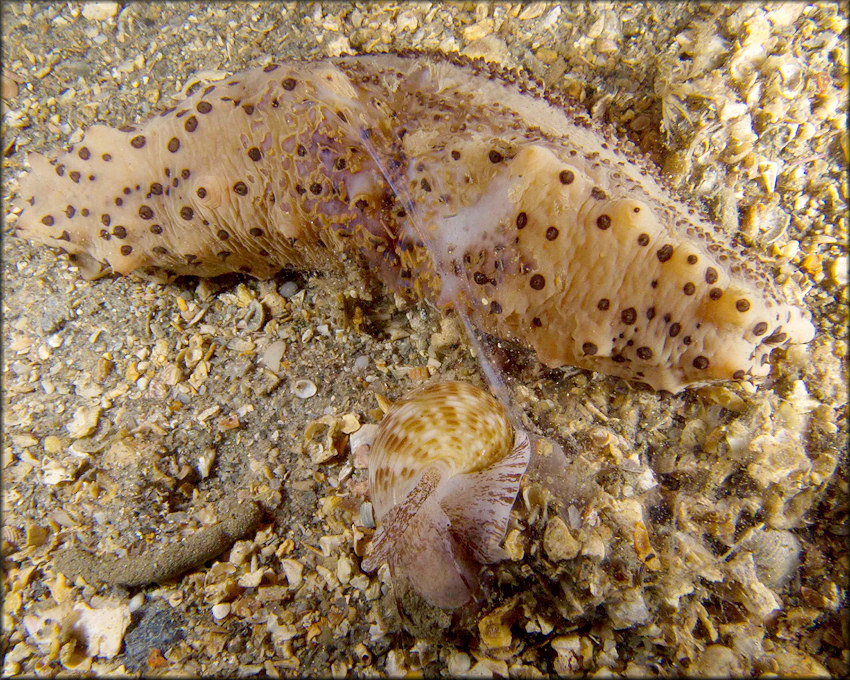 Photographed by Bill Barnes while SCUBA diving at night, Lake Worth Lagoon near Peanut Island, Palm Beach Inlet, Palm Beach Co., Florida, 2/5/2012. | Underwater photograph copyright 2012 by Bill Barnes.
The activity pictured above is very similar to what happens in the Indo-Pacific with Tonna perdix (Linnaeus, 1758)
Pacific Partridge Tun
and sea cucumbers of the genus Stichopus. Tonna there eat a variety of sea cucumbers, but their favorite is Stichopus. A curious aspect of this is that stichopodids have a special adaptation to deal with Tun predation; they make the part of their body wall where Tonna latches on rigid, soften the rest, then autotomize that hard outer body wall to feed the snail (Dr. Gustav Paulay, Florida Museum of Natural History, personal communication, 4/5/2012).