Porpita porpita "Blue Button"
This pelagic hydroid colony, consisting of a central "float" (

pneumatocyst) surrounded by "

tentacles" (zooids), is rarely found washed ashore on the beaches of northeast Florida while it is reportedly extremely common elsewhere. The "tentacles" vary in color from blue to brilliant green. Like its close relative Physalia physalis - Portuguese Man-of-War, Porpita porpita is dependent on prevailing sea currents and the wind for movement.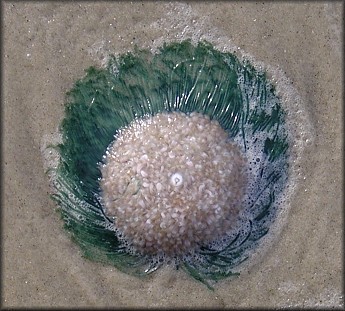 Cumberland Island, Georgia 5/13/2004. Digital photograph by Carol Ruckdeschel.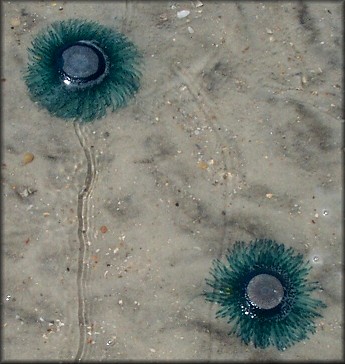 Little Talbot Island State Park, Duval County, Florida 5/15/2004 (about 90 mm. total). Digital photograph by Joel Wooster.