Cypraecassis testiculus (Linnaeus, 1758) Reticulate Cowrie-helmet Eggs
Newly hatched veligers are visible in the image.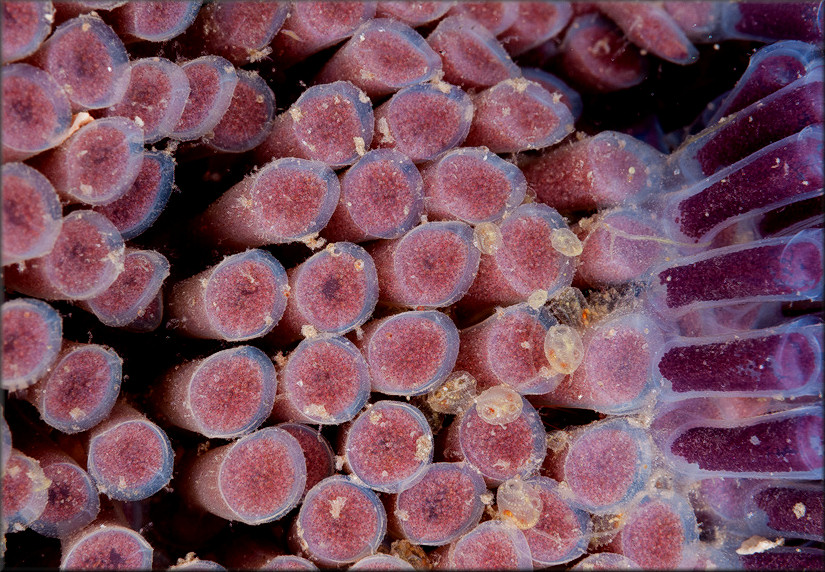 Photographed by Linda Ianniello while SCUBA diving at night in Lake Worth Lagoon near Peanut Island, Palm Beach Inlet, Palm Beach Co., Florida 3/26/2013. Underwater photograph copyright 2013 by Linda Ianniello.
Hughes and Hughes (1987) reared C. testiculus from conception to hatching. This species has very high fecundity. The spawn (average of two) is 1,2000,000 eggs. These are distributed within ~ 800 capsules (~1500 eggs per capsule). Hatching occurs about two weeks after oviposition. The emerging veliger has a 0.2 mm shell (H). The larval lifespan is weeks to months depending on multiple factors. At settling the protoconch has grown to ~ 2.5 mm (twelve-fold in this linear dimension; estimated increase in animal mass from emergent veliger to settling: ~ one thousand-fold).
Hughes, R.N. & Hughes, H.P.I., 1987. Spawning and hatching of Cypraecassis testiculus Linnaeus, 1758 (Tonnacea: Cassidae). The Veliger 29(3): 256-259. 31 December.